How You Can Help
There are many ways that you can help Kickstand even if you are not able to volunteer.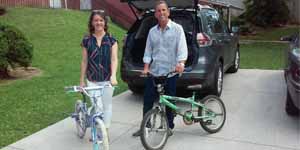 Donate a Bicycle!
Kickstand welcomes all bike-related donations! To ensure that your donation reaches us and is not lost, we ask that you please drop off your items during our regular business hours.
Buy a bicycle from us!
You may wonder why Kickstand sells some bicycles when their mission is to provide bicycles to people who need them. Many of the bikes that are donated need work, so some biclcles are sold to purchase the parts and tools necessary to repair them.