Welcome To Kickstand's Website
Summer Hours: Tuesdays and Fridays from 4-6 or dusk, and Saturdays 12-5 or dusk.

Kickstand welcomes all bike-related donations! To ensure that all your donation reaches us and is not lost, we ask that you please drop off your items during our regular business hours.
These hours are currently (weather-permitting): Tuesday, 4-6 or dusk; Friday, 4-6 or dusk; and Saturday, noon-5. Closing times change with longer days.
If you cannot make these times, please message us with a time you can donate and we will see if there will be volunteers present then.
Thank you for your continued kindness and support.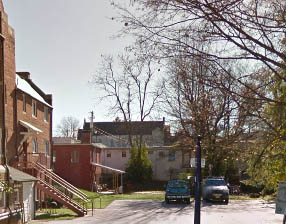 Kickstand is located at 1323 North Broadway (Fourth Presbyterian Church). The entrance to the shop is in the back of the church.
Photo from Google maps
Learn ways you can get invovled and ways you can help if you are not able to volunteer. There are many ways you can help.
Ready to volunteer? You can stop by Kickstand any time it is open. You can read or download a Volunteer application here
Kickstand has program for people who would like to earn a bike. Read about this program or download an application here.